بسم الله الرحمن الرحيم
Community Announcements
Updated June 17, 2015 by Admin.
****** URGENT APPEAL ******
On April 27 a fire severely damaged the ISTABA Daycare. Alhamdulillah, nobody was hurt, but your help is urgently needed to help rebuild it. Please make an online donation by clicking the button below. Jazakum Allah Khairan.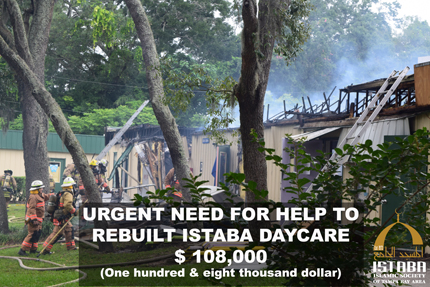 ---
Weekly Halaqah by Imam Arjan Abu Sa'ad every Friday between Maghrib and 'Isha. Topics include requirements of Ibadat (worship) and Fiqh (jurisprudence)


Build the Roof Project:Sponsor the building of the roof of the new multipurpose building for $15 per square foot.
Donate now (Donation button #15).

Learn more about ISTABA and our future Multipurpose Building, in sha' Allah, by watching the videos below.

Daily Prayer Times
Masjid Iqamah Times
Fajr: 6:00am
Dhuhr: 2:00pm
Asr: 5:15pm
Maghrib: 10 min after sunset
Isha: 9:45pm

Friday Khutba: 1:30pm
Like us Facebook!

---
--Visit These Websites--