Funeral Services
The Islamic Society of Tampa Bay Area (ISTABA) has a designated room for performing Ghusl (washing) and shrouding of the deceased. In the event of a Muslim's death in or around the Tampa Bay Area, please follow the procedures below to make proper arrangements.
Procedures Following a Muslim's Death
Call the masjid office or brother Yaser to make arrangements with the funeral home. The funeral director will make arrangements to have the deceased taken on the morning of the funeral to the masjid, where washing, shrouding, viewing, and funeral prayer will take place. The Janazah (funeral prayer) takes place shortly after Dhuhr prayer.
Masjid Office: (813) 628-0007
Brother Yaser (813) 447-3337
Contact Sunset Memory Gardens to make arrangements for the burial. The burial takes place immediately after the Janazah (funeral prayer).
Sunset Memory Gardens: (813) 986-2402
Approximate Costs
Funeral Home $1800
Includes:
transportation from local hospital to funeral home, funeral home to ISTABA, and ISTABA to Cemetery
basic coffin
police escort
death certificate
costs are approximate and do not include additional services
Cemetery $3525
Includes:
lot
grave opening & closing and vault
$180 for archive records
call for costs of additional burial services provided
Note: Marker is NOT included. Markers start at $1050
Buy A Gravesite
Full Payment $3,500 or Down Payment $1,000
Use this option to buy a gravesite in full ($3,500 USD) or if you would like to put a $1,000 USD down payment toward the $3,500 USD cost of a gravesite. Important: If you are using the down payment option, you must also sign up for one of the monthly payment plans (see below).
Buy A Gravesite
Monthly Payment Plan (After $1000 down payment)
Important: Use this option if you have already paid a down payment of $1,000 USD toward the $3,500 USD cost of a gravesite.
Option 1: Monthly payments of $100 (25 payments)
Option 2: Monthly payments of $250 USD (10 payments).
Useful Resources

Islamic Will and Testament (PDF)
Important Numbers
ISTABA Office
(813) 628-0007
Hours: 8-4 M-F; Sat. 9-2pm
Sunset Memory Gardens
Main: (813) 986-2402
11005 N US Highway 301
Thonotosassa, FL 33592
Allah (swt) said..
"O my People! This life of the present is nothing but a temporary convenience. It is the hereafter that is the home that will last."
(Quran 40:39)
The Prophet (saw) said..
"Surely Allah takes what is His, and what He gives is His, and to all things He has appointed a time...so have patience and be rewarded."
(Bukhari)
---
--Featured Book--
Click Below to View Book (PDF)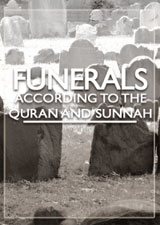 ---